---
Of the Resistance during the World War II, we know the Army of Shadows or the Maquisards, but much less this Marseille network which was very active after the fall of the French army and the establishment of the Vichy regime. In the free zone, a few "Righteous" people decided to exfiltrate refugees, mostly Jews, who, fleeing the German occupation, flocked to the port city of Marseille hoping to go into exile far from Europe. "We were very enthusiastic about the idea of hosting this project on an episode in Marseille's history that remains relatively unknown even today," confides Vanessa Kuzay, the city's film officer. Transatlantic tells the true story of Varian Fry, an American journalist who organised from Marseille, with the Emergency Rescue Committee, "the rescue and escape of 2,000 to 4,000 Jews, including renowned artists and intellectuals". Max Ernst, Hannah Arendt and Marc Chagall escaped the worst thanks to Fry and his local network. "Marseille was an integral part of the script for the series, which could just as easily have been shot elsewhere. But the creator Anna Winger showed a real desire to shoot in a natural setting and on the actual locations where the story took place".

With 240 km2 of scenery, Marseille is an enormous playground for filmmakers: from small villages to business districts, from beaches to industrial sites, from steep alleys to grand boulevards...
For four months, from the end of February to the end of June 2022, the production set up its cameras in the capital of the Bouches-du-Rhone department. Line producer of Cactus Films, Thomas Buchwalder played an integral role in setting up what was a distinctly international project, developed by a German company (Airlift Productions) for an American Netflix: "I am of Swiss-German origin and I speak several languages, so I had an international profile, much like the series," he explains. "I was very excited about the idea of working with Anna Winger. She told me from the outset that she didn't want to make a typical World War II series with special effects and violence. She wanted to illustrate the fate of the artists who were first to be assisted by this network, and how that aid later spread to many other refugees. She wanted to make something realistic, that echoed today's world".
Filming in Marseille required significant logistics and technical know-how: "Our main task was to source the team locally; taking on a maximum number of technicians based in the region, particularly for the heads of post. We trusted and valued them, and in turn they felt greatly respected. It made for good cohesion on set", says Thomas Buchwalder. Vanessa Kuzay recalls that Marseille is "the second city in France in terms of filming after Paris and it is used to hosting international projects, there is a close-knit and structured film and TV sector. Productions are able to recruit locally from a pool of 1,500 technicians who work regularly with international teams. The Mission Cinéma, which she manages, also assists productions in their search for locations in conjunction with local scouts, and facilitates access to municipal sets. This enabled the production to film all of Transatlantic on real sets: "We had some difficulty finding period sets, because many things from that time no longer exist," says Thomas Buchwalder. But the Splendid Hotel, where Varian Fry first set up shop, is still standing! It is now a public administration building with offices, but we were specially allowed to convert it back into a hotel for our shoot.
The producer explains that Marseille offers an idyllic setting to work: "Foreigners feel like they're on holiday when they come here to work," he smiles, revealing that Anna Winger fell in love with the city as soon as she arrived to film the series. "The good climate helps and Marseille's unique setting offers a lot of choice in terms of scenery. The light is extraordinary here, allowing us to do incredible shots on the city's waterfront, in the limestone creeks of the Calanques National Park, or along the entire coastline". An asset that Vanessa Kuzay and the Municipality obviously want to highlight: "With 240 km2 of scenery, Marseille is an enormous playground for filmmakers: from small villages to business districts, from beaches to industrial sites, from steep alleys to grand boulevards...".
Another key factor in the series being filmed in the south of France was the Tax Credit for International Production (TRIP), which is awarded by the CNC and encourages international productions to film on real sets rather than reconstitute everything in the studio: "We have been observing such a trend for the last five or six years, since we increased to a 30% return on investment of eligible costs," explains Thomas Buchwalder. We've seen a lot more projects coming in. This is backed up by Vanessa Kuzay who observes: "The TRIP is a real incentive. With increasing competition among different territories to encourage film production, the TRIP has been crucial in enticing a great many shoots to France. Thanks to the TRIP, Marseille has hosted large-scale productions such as Stillwater in 2019, and The Nun 2 and Transatlantic in 2022".

1469 days of filming in Marseille in 2022: a record!
As the icing on the cake, the Netflix series closed the festival, Séries Mania at the end of March before it hit screens worldwide via the platform on 7 April. "It is a great opportunity to put Marseille's rich scenery and history centre-stage," says Vanessa. It is also shining a spotlight on a plentiful local industry. Marseille may be a city of film shoots, but it is also a production hub, with scriptwriters, directors, actors, post-production studios... We can expect that an ambitious series with an international prominence like Transatlantic, will encourage other productions to come and shoot in Marseille.
Filming is booming in Marseille with 1469 days of filming, all formats combined, in 2022. A record, with very immediate benefits for the city: 82.5 million euros of local spending, including 31 million in employment. "Films and series have an indirect impact on tourism. This series will undoubtedly make viewers want to come and visit Marseille, to walk through the scenery shown onscreen and to learn more about the city's rich history..."
Transatlantic8-episode series, April 7, 2023 on Netflix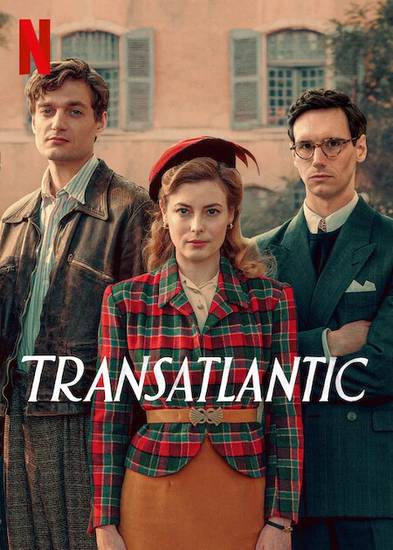 Created and written by Anna Winger and Daniel Hendler
Directed by Stéphanie Chuat and Véronique Reymond
Starring Cory Michael Smith, Gillian Jacobs, Corey Stoll
Music by Mike Ladd and David Sztanke
Produced by Airlift Productions, Cactus Films and Netflix
Supported by the CNC : Tax Credit for International Production (TRIP)