---
Every year, the English-language website Animation Career Review, a reference in the animation and video game sector, publishes its worldwide ranking of animation schools. In 2022, three French schools were placed among the top ten: Gobelins, the school of images (in pole position for the second year in a row), the École supérieure des métiers artistiques (ESMA) and Supinfocom Rubika. As the third largest animation industry in the world behind the United States and Japan, and the largest in Europe, France attracts many foreign students who want to be trained in French expertise. In order to best cater to their needs, schools have developed a range of specific options, from setting up English-speaking courses on their campuses to creating partner structures in foreign countries. The entire chain of animation professions is represented in these international training programs, from 3D animators to story boarders, from special effects directors to editors.

Our business model through the support of public institutions, and in particular the establishment of tax rebates allows a wide freedom of movement in productions.
Cécile Blondel, director of international development at Gobelins
Teaching entirely in English
"Foreign students represent half of the enrolment at Gobelins," notes Cécile Blondel, director of international development at the school, whose alumni include, among others, Pierre Coffin, the co-director of global box-office hits Minions (2015) and Despicable Me (2010). This pioneering animation school, whose film department is celebrating its 47th anniversary this year, has been offering a curriculum taught entirely in English on its Paris campus since 2018. From bachelor's to master's degrees, it is also open to French speakers who can prove they have international experience – a prime example of readying students for the multicultural world of major studios.
A "summer schools" programme for international students and young professionals is also offered, and at the beginning of the year it launched an English-language version of its preparatory class, which helps students acquire the basics for admission to an animation course. "This programme is entirely online and currently gathers together 18 different nationalities," says Cécile Blondel. In 2019 the school partnered with the American platform Netflix to offer scholarships to students from the African continent, and enable them to follow the school's English-language curriculum with a view to fostering the emergence of new talent, a diversity of profiles and to promote equal opportunity.

Rubika, which specialises in design, video games and animation with the Supinfocom programme, also positions itself as a school that is open to the world. "An international experience opens up new horizons and allows us to push our creativity even further," explains Stéphane André, director of the school which became an associative structure six months ago. It offers English-language 3D animation at the bachelor level on its Valenciennes campus, and at the master's level in Montreal. "It is essential to teach our students to work with people who think differently to them. The campus, situated in northern France, comprises about 15% foreign students. "In this programme, we also have children from families who have always lived abroad, as well as internationals who speak French very well," says the director.

The schools allow students to learn French either in parallel to their courses on campus, or through agreements with FLE (French as a foreign language) structures. At ESMA in Lyon, students have been taking advantage of these FLE agreements together with their English-language curriculum in 3D animation and special effects since 2017. "We have always had foreign students, but most of the time they were French speakers or Francophiles," explains Isabelle Teissedre, the school's director of education. Not offering a programme in English excluded talented students who did not have a sufficient level of French, which was a shame. The choice was made to offer the English-language programme in Lyon, "a student city and the third largest city in France," but ESMA is also considering implementing it on its campuses in Nantes, Montpellier and Toulouse.

We have access to an imagination that is extremely different from ours, which boosts creativity and the quality of productions.
Stéphane André, director of Rubika
… Expertise that exports well...
While foreign students are able to take courses in France, they can also follow the French curriculum in their own countries. This forms another part of Rubika group's strategy, which launched its campus in Montreal, Canada in 2016, followed by three partner campuses in India in 2018, Kenya in 2019 and Vietnam in 2020. "In each of these countries, we have access to an imagination that is extremely different from ours, which boosts creativity and the quality of productions," notes Stéphane André. Each partner campus has its own admissions process, an international programme that meets international standards and a regional programme that includes short courses in line with the local market. "The idea is not to create an elite school for the elite," insists the director. "If the foreign student spends half of his or her schooling off campus, it is also important that he or she not be uprooted from his or her culture". The school hopes to open other such branches in Asia and the Middle East in order to be present where "major cultural and religious currents exist". With the same idea in mind, ESMA has opened its own structure in Montreal. "The city has a huge hub of studios, and many of our alumni were working there and struggling to recruit talent," says Isabelle Teissedre. The school offers its training in 3D animation and special effects in French, and in English since early 2022. "The goal is not to make a school exclusive only to French speakers, but one that appeals to the North American public as a whole.

Last year at ESMA, we recorded no fewer than 1,150 job interviews the day after graduation.
Isabelle Teissedre, director of education at ESMA
Beyond borders
The world's most prestigious animation studios are attracted to talents trained in France. For example, each year a graduate of Gobelins is chosen to develop original animated productions for Netflix in Japan. Disney also organises every year the Disney Art Challenge, a drawing competition for students from RECA partner schools (the network of French animation schools, which currently boasts 31 organisations). The 2022 edition, based on the theme "A little closer to the stars" and inspired by Pixar Studios' latest creation, Buzz Lightyear, rewarded the work of students from Gobelins (Paris), MoPA (Arles) and Emile Cohl (Lyon).

International rankings such as the selection of graduation films at festivals play a vital role in the influence of French schools abroad. This year, the short film Les humains sont cons quand ils s'empilent, by Laurène Fernandez, a student at La CinéFabrique (Lyon), won the third prize in the Cinefondation competition at the Cannes Film Festival, ex-aequo with the film Glorious Revolution directed by Masha Novikova from the London Film School. Yallah, the project by Supinfocom Rubika students Nayla Nassar, Édouard Pitula, Renaud de Saint Albin, Cécile Adant, Anaïs Sassatelli and Candice Behague, won a prize at the digital image industry trade show Siggraph 2022, held in Vancouver. But the Internet also plays an active role in the attractiveness of French training. Some student productions, such as the short film Louise by Gobelins students Constance Bertoux, Camille Bozec, Pauline Guitton, Pauline Mauvière and Mila Monaghan, have had more than 1 million views on Youtube. ESMA even has 1.35 million subscribers on its account @ESMAMovies, which makes it the second school in the world in terms of number of "followers"... after Harvard (2.16 million).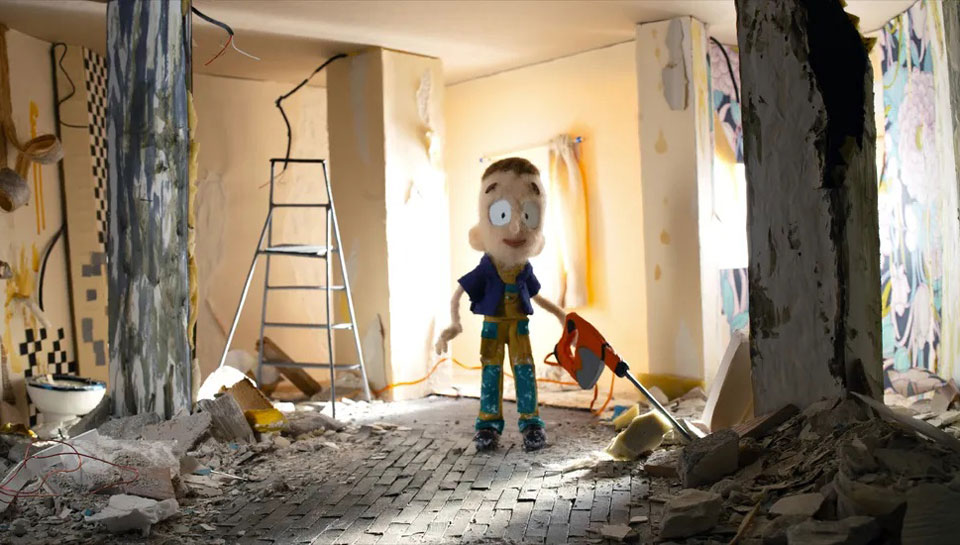 Les humains sont cons quand ils s'empilent (Humans are stupid when they pile up), Laurène Fernandez's graduation film (La CinéFabrique, Lyon), was awarded at the Cinéfondation at the Cannes Festival 2022 CinéFabrique
French touches in the plural
What lies behind the strength of French education? Public or private, it stands out for its diversity, its professionalism and its age," explains Christine Mazereau, RECA's executive director. French schools have a wide range of expertise and creativity. Very early on, students are immersed in a culture of images and narration, with courses in semiology and art history: In fact there exists "not a French Touch, but French touches in the plural" says Christine Mazereau. What makes French animation so distinctive is that it presents eclectic projects without formatting. From family films such as Kirikou and the Witch (1998) or Asterix, the Secret of the Magic Potion (2018) to animated works for adults such as Persepolis (2007) or J'ai perdu mon corps (2019), the diversity of genres is the main strength of French animation. "Our business model through the support of public institutions, and in particular the establishment of tax rebates (editor's note: audiovisual tax rebate and tax rebate on international productions) allows a wide freedom of movement in productions," notes Cécile Blondel of Gobelins.
Another distinctive feature is that most French programmes last four to five years. "In France, we are fortunate to be able to offer a dense education over several years, which is not necessarily the case in Anglo-Saxon countries where the cost of studies is very high for young people," explains Isabelle Teissedre of ESMA. This gives us the edge as we train people capable of mastering the entire production chain. "From pre-production to post-production, including AD (editor's note: artistic direction), the jobs are changing rapidly, so it is better to be a generalist in order to enter the job market more easily," says Stéphane André of the Rubika group. Boosted by the increased demands of platforms, animation is recruiting around the world. And French talent is particularly prized at job fairs and graduation juries. "Last year at ESMA, we recorded no fewer than 1,150 job interviews the day after graduation," recalls Isabelle Teissedre. The professional integration rate of students from the RECA French animation schools varies between 90 and 100%. "We could almost be blamed for not producing enough graduates," smiles Christine Mazereau.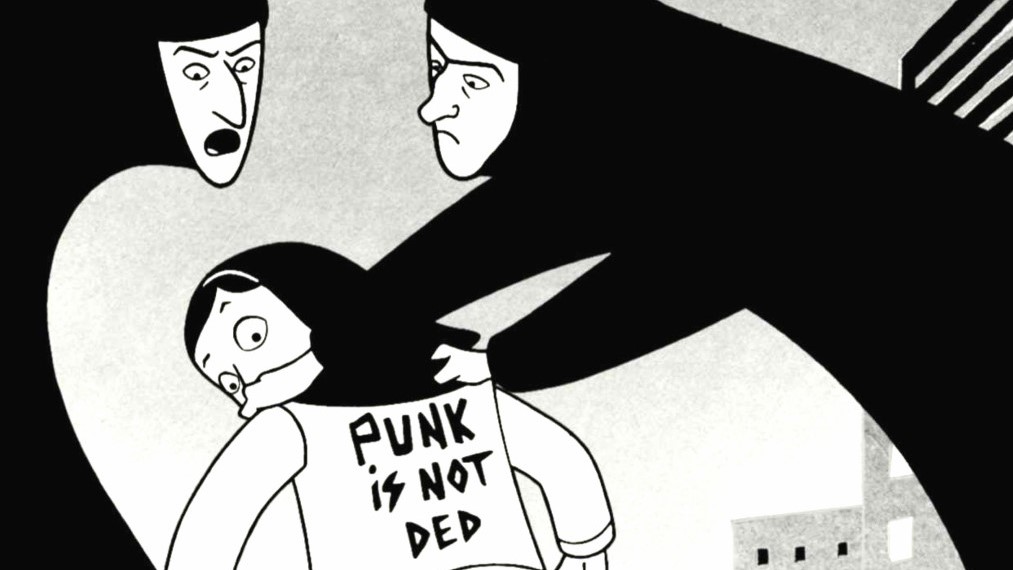 Persepolis by Vincent Paronnaud and Marjane Satrapi Diaphana