---
On Friday 19 May 2023, on the fringes of the 76th Cannes Film Festival, Minister for Culture Rima Abdul Malak revealed the names of the 68 winners of the France 2030 "La Grande Fabrique de l'image" call for projects, which was launched in April 2022 with a focus on film studios, digital production studios (animation, video games, VFX, post-production) and training in film and audiovisual professions. The announcement was made alongside Bruno Bonnell, General Secretary for Investment in charge of France 2030, and Cédric Jimenez (Novembre, Bac Nord, HHhH), film director and co-chairman of the selection committees.
68 projects selected in 12 regions
Among the 68 projects selected from the 175 applications received, are 11 film studios, 12 animation studios, 6 video game studios, 5 special effects and post-production studios and 34 training organisations. Two-thirds of the winners are based outside the Paris region, particularly in French overseas territories. They come from the following 12 regions : Auvergne-Rhône-Alpes, Bretagne, Grand Est, Guadeloupe, Hauts-de-France, Île-de-France, La Réunion, Martinique, Nouvelle-Aquitaine, Occitanie, Pays de la Loire and Provence-Alpes-Côte d'Azur.
The aim of this initiative is to support the French creative industries and make France a leader in Europe in terms of filming and the production of films, series and video games, post-production (with particular emphasis on special effects) and training in the film and audiovisual professions. The purpose of this €350 million initiative, implemented by the Secrétariat Général pour l'Investissement and operated on behalf of the French government by the Centre National du Cinéma et de l'Image Animée (CNC) and Caisse des Dépôts, include doubling studio production capacity as well as the number of training courses in the film and audiovisual professions.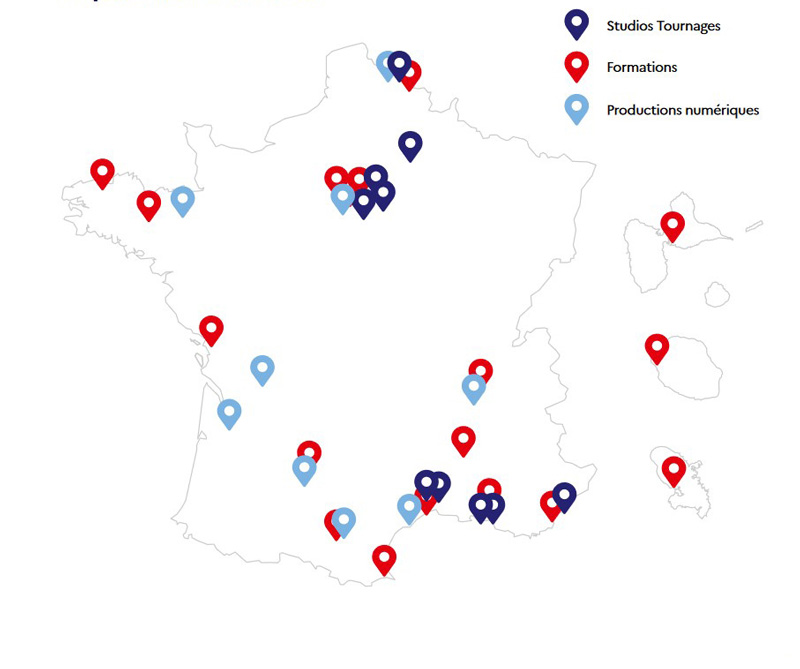 Increasing attractivity and reducing the carbon footprint
Two selection committees chaired by film director Cédric Jimenez and video game designer Muriel Tramis studied the applications. The eligibility and feasibility of each project having been previously assessed by the CNC and Caisse des Dépôts.
As vectors of regional dynamism, the chosen projects must advance the reduction of the industry's carbon footprint and accelerate the development of eco-responsible activities, generating job creation, economic benefits and tourist appeal for the regions.
Projects selected by region
Auvergne-Rhône-Alpes
Teamto (film studio)
Foliascope (animation studio)
Cinéfabrique (film training)
Ardèche Images (film training)
École cartoucherie animation solidaire (film training)
Ogec Lycée et institut Montplaisir (film training)
Bretagne
Personne n'est parfait (animation studio)
Groupe Ouest (film training)
Films en Bretagne (digital training)
École et formation creative seeds (digital training)
Grand Est
Terralab solutions (film studio)
Guadeloupe
Kourtrajme Karaibes (film training)
Hauts-de-France
Broadway (film studio)
Kazoo animation (animation studio)
Cybergroup studios (animation studio)
Polytechnique Hauts-de-France (film training)
Séries Mania (film training)
Île-de-France
Bry-sur-Marne (film studio)
Studios de Bailly (film studio)
Studios de la Montjoie (film studio)
TSF studios 77 (film studio)
Dark Matters (film studio)
Xilam animation (animation studio)
Mikros Image (animation studio)
Miam! Animation (animation studio)
Superprod (animation studio)
Fortiche Production (animation studio)
Don't Nod Entertainment (video game studio)
New Tales (video game studio)
Hawkswell (video game studio)
Unit Image (visual effects studio)
Polyson Post-Production (post-production studio)
Titra Films (post-production studio)
Institut Georges Méliès (digital training)
INA Projet studio campus (film training)
Cité des Arts visuels (film training)
ESRA (film training)
ENS Louis Lumière (film training)
Nouvelles Écritures (film training)
La Fémis (film training)
Ecoprod (film training)
Simplon.Co (digital training)
Creative Handicap (digital training)
ISart (digital training)
La Réunion
Kreanim – Rubika Réunion (digital training)
Martinique
Parallel 14 (digital training)
Nouvelle-Aquitaine
Solidanim (animation studio)
Shiro Games (video game studio)
Le Conservatoire européen d'écriture audiovisuelle (film training)
Société Economie Mixte du Périgord (film training)
CNAM-ENJMIN (digital training)
Occitanie
Pics Studio (film studio)
France.Tv Studio (film studio)
TAT Studio (animation studio)
The Game Bakers (video game studio)
Mathematic (visual effects studio)
The Yard (visual effects studio)
Travelling (film training)
D.E.F.I Production – Dire. Ecrire. Filmer. Imaginer. (film training)
Audio Workshop (digital training)
Idem Formation (digital training)
Artfx (digital training)
Pays de la Loire
Endroad (video game studio)
Provence-Alpes-Côte d'Azur
Provence Studios Marseille (film studio)
Provence Studios Martigues (film studio)
Studios de la Victorine (film studio)
Les Ateliers de l'image et du son (film studio)
Université Aix-Marseille (film training)
Kourtrajme Marseille (film training)
La Plateforme Formation (digital training)
École des nouvelles Images (digital training)
ISart Digital (digital training)